OUR LOCATION
Holidays in Mykonos would be unique and Kouneni Apartments have one of the top-rated locations in Mykonos Town which is ideal to explore this picturesque Greek island. The apartments are located in a secluded garden in the centre of Mykonos Town, within walking distance to all famous attractions, like the Windmills, Little Venice, Paraportiani, the Waterfront, boats to Delos and all bars, shops and restaurants of Mykonos Town.
It is also walking distance to the two main bus and taxi terminals that serve all major famous beaches of the island. So, with the nearest bus stop being 250 metres away with taxi and buses that lead to the island's beaches and 400 meters to the nearest beach the guests of Kouneni can explore the sunny Cycladic Mykonos island. Kouneni's position is also ideal for shopping during your holidays in Mykonos as it is located right on the main shopping street, next to Louis Vuitton.
The access to the Kouneni Apartments is easy as the Airport of Mykonos (JMK) and the island's Main Port are within 5 minutes' and 10 minutes' drive respectively from the hotel. Additionally, the public parking is only 250 meters away. Our visitors can explore Mykonos' treasures, attractions and settlement, on their holidays in Mykonos, by going on day trips around the island. From the Old Port in Mykonos Town, which is in a walking distance from Kouneni Apartments, one can take a wondrous boat trip to the nearby island of Delos, which is an open-air museum, the birthplace of Apollo and a UNESCO World Heritage site, a must! There are also numerous traditional taverns, bars and cosy cafes to discover and a wide selection of famous fashion shops as well as local shops where you can buy souvenirs, jewellery and local produce. Make our beautiful apartments your base and explore the many wonders of our beloved island of Mykonos.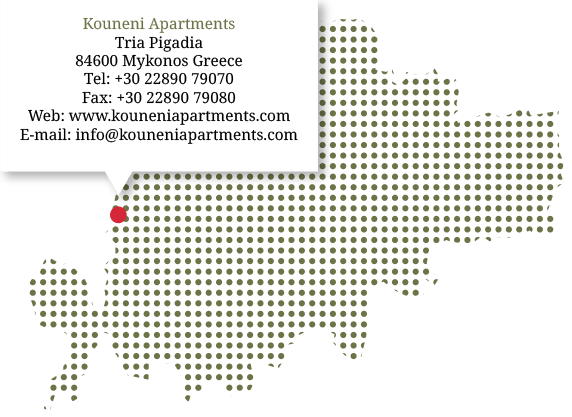 Our Location